Hackney Downs low traffic neighbourhood retained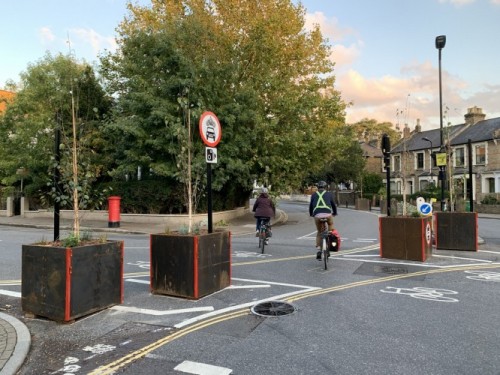 Hackney Downs low traffic neighbourhood (LTN) is being retained, with some important changes, following analysis of comments from residents, traffic, air quality and bus speeds data. 
The low traffic neighbourhood was introduced in September 2020, and is part of plans to rebuild a greener Hackney after the pandemic – with 19 trial low traffic neighbourhoods and 40 School Streets introduced to support people to walk, shop and cycle locally and create cleaner, greener neighbourhoods.
It features six traffic filters (planters in the road that allow only cyclists, waste and emergency vehicles to pass through) in the area, and a bus gate on Downs Road, which also permits buses to pass through. 
Following the LTN's introduction, overall traffic and air quality levels in the Hackney Downs area have improved, with traffic down by 40% inside the low traffic neighbourhood, and air quality improvements at 84 of 118 locations.
The total number of vehicles on boundary roads has not changed significantly, increasing by just 49 vehicles a day, however, as an average of percentages across the roads, an increase of 7% was observed. This demonstrates that relative increases have occurred on specific roads rather than boundary roads as a whole.
Following feedback from local residents about increases in traffic on Northwold Road, the Council will be engaging with residents to develop proposals to mitigate these. This could range from width restriction to restrict heavy goods vehicle access, a major contributor to pollution levels, to a new traffic filter. 
The Council is also set to permit Blue Badge holders to drive through part of the low traffic neighbourhood (the Downs Road bus gate) as it has done already for the bus gates at Stoke Newington Church Street and Shepherdess Walk. 
During the engagement period, some residents asked that restrictions be added or removed on some roads, such as Benthal Road, Jenner Road, Queensdown Road and Cricketfield Road. 
The Council is investigating the issues, and will develop options with local residents, consult on those options and then implement further changes if approved. Monitoring of the traffic flows and air quality in the LTN area will continue throughout this period.