LGBT+ people in West Yorkshire urged to #BeTheChange by adopting a child or children who wait longer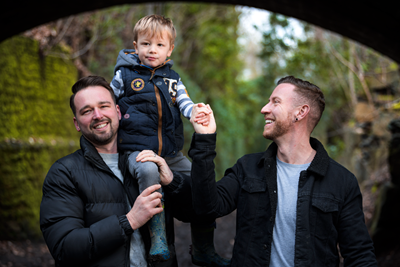 People who are Lesbian, Gay, Bi and Trans are being urged to consider whether they could #BeTheChange by adopting a child through One Adoption West Yorkshire, as part of LGBT+ Adoption and Fostering week.
The regional adoption agency for West Yorkshire is supporting this year's awareness-raising week (7 – 13 March), which is organised by national charity New Family Social.
The focus on this year's campaign is #BeTheChange; shining a spotlight on those children who wait the longest for an adoptive family. Nationally, children who are over four years of age, groups of brothers and sisters, children with additional health and development needs and those of Black, minority ethnicities and mixed heritage, all wait longer to be matched with adopters.
One Adoption West Yorkshire wants to urge LGBT+ people from across the region who are thinking about adoption as a way to build their family, to consider whether they could provide a safe and loving home for a child or group of brothers and sisters, who traditionally wait longer than others.
The regional agency for West Yorkshire, which provides adoption services for Bradford, Calderdale, Kirklees, Leeds and Wakefield councils, has supported many same-sex couples and single LGBT+ people to adopt.  In fact, since its launch in 2017, one in five adoptions approved by the agency were to members of the LGBT+ community. However, many people still think they wouldn't be allowed to adopt because of their gender or sexuality. 
Councillor Fiona Venner, chair of the West Yorkshire adoption joint committee said:
"We need a wide range of people to meet the diverse needs of some of West Yorkshire's most vulnerable children. Adoptive parents who can offer children a stable, loving, permanent home are our priority rather than their sexuality.
"Our adoption teams across the region offer a warm welcome to everyone who is interested in finding out more about adoption and I'd urge people to get in touch."
Michelle Rawlings, head of agency at One Adoption West Yorkshire said:
"Adoption is life changing for children. What matters is that you can offer love, stability and security for a child who has had a difficult start in life. We welcome applications from people of any sexuality, race or religion, in a relationship or single, who can open their hearts and their homes to children in our region.
"Here at One Adoption West Yorkshire we have a great track record helping members of the LGBT+ community to build their family through adoption, with support and peer mentors available to help guide you on your journey, including New Family Social membership.
"In West Yorkshire we are particularly looking for families for groups of brothers and sisters, children who are over four years old, children who have Eastern European heritage and children who have Black or mixed Black heritage.
"If you think you can be the person who changes a child's life, then please book a place at one of our online information events."
One Adoption West Yorkshire regularly hosts information events which are an opportunity for people to hear from friendly professional staff, find out more about adoption; the assessment process, the children One Adoption is currently looking for homes for and what it is like to adopt a child, from people who have already adopted.
The next online events planned for West Yorkshire are being held on Saturday 9 March at 10am and Tuesday 5 April at 6pm both via Zoom.
By adopting through One Adoption parents are supported throughout the whole process by a highly experienced, dedicated adoption support team. There is a comprehensive programme of pre and post adoption training and support – from stay and play sessions to more in-depth training and workshops and therapeutic support from our multi- disciplinary team.
Anyone interested in finding out about adopting or to book a place on an information event can check out the One Adoption website www.oneadoption.co.uk/events or call the advice line on 0113 378 3535.
Notes to editors:
Interviews can be arranged with adopters and adoption professionals.
ENDS