Purple wavers launch Great Manchester Run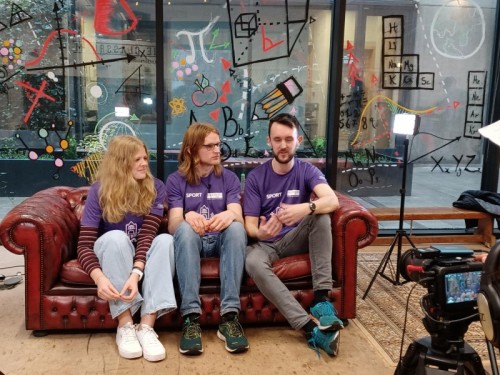 The internationally renowned event will be staged for the 19th time, with the day also including a half marathon in the heart of the city.
The University will have its own start time, with a Purple Wave of runners wearing the purple technical running t-shirts they receive on registration.
In past years, up to 2,600 University staff, students and alumni have been part of the event.
And the University is again organising a 2.5K and 5K Run, this year on 9 March at Platt Fields, giving anyone who wants to take part in the May event a taster of what's in store –whatever their ability.
Purple wave organiser Ellen Stephenson from  The University of Manchester Sport Department said: "The struggles over the past few years have tested many people's mental health. So the focus of this year's Great Manchester Run is mental health and how running and everyday activity can help you keep a healthy mind-  as well as a healthy body. You can run, walk or Jog; it's great to be active.
"Running is a fantastic thing to do. It's good for your physical and mental health it's also great fun. You don't need to be experienced-  it really is for anyone. So get involved!"
"And if you've never run before why not take part in our taster races? Just come along over your lunch break get involved: It only costs £3 and all finishers get an iron on badge."
The University run a number of groups to support runners from a beginner's session on a Tuesday evening to sessions for more experienced runners on lunch times and evenings.
Anyone who doesn't want to take part in the races can volunteer. Email  sportsvolunteer@manchester.ac.uk if you want to get involved on either the 9th March or the 22nd May. 
All participants in the Purple Wave are being encouraged to raise money for their chosen cause,  which can include   Re-write Cancer ,  the Purple wave's chosen cause. The campaign aims  to create a world-leading cancer research centre in the heart of Manchester.
Those raising money for Re-write cancer will have their entry fee waived if they reach the minimum fundraising target.
Pictures: 
Eleanor, James and Jack being interviewed at the launch
Eleanor, James and Jack  with Mike Addelman and Ellen Stephenson
Ellen, Jack, James, Ferne McCann, Eleanor and Mike
Purple Wavers in action