Leeds
Leeds speaks out about harmful gambling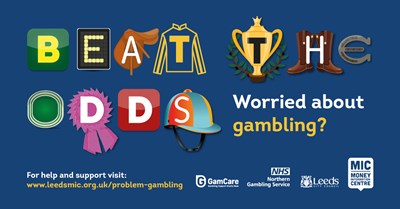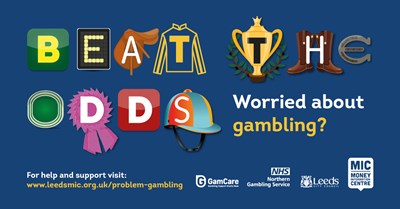 Leeds City Council has teamed up with NHS Northern Gambling Service and Leeds Community Gambling Service to refresh the 'Beat The Odds' campaign first introduced in 2017. 
With an estimated 10,000 problem gamblers in Leeds, and a further 30,000 individuals at risk, it is vital that people are aware of the support that is available to them. 
This campaign brings partners together for the first time to raise awareness of gambling issues in Leeds and direct those impacted to the most appropriate provisions. Residents can expect to see the campaign being promoted widely across Leeds, including through social media, screens in the city centre and stalls in Trinity Shopping Centre.
This comes at the start of a busy sporting year which will see both the FIFA and Rugby World Cups alongside ever popular horse racing events within the coming months – events that often go hand in hand with gambling.
Gambling can be a very complex problem, frequently coinciding with worry, stress and social stigma. By breaking down the stigma, normalising the conversation about gambling harms and promoting the help that is available, it is hoped that more people will come forward and seek support.
Free and confidential support is available for people who are concerned about their own gambling, as well as for those who are worried about or impacted by the gambling of someone close to them. Both the NHS Northern Gambling Service and Leeds Community Gambling Service provide advice and talking therapy.
Councillor Mary Harland, Leeds City Council executive member for communities, said:
"We recognise the immense harm that gambling addiction can cause, and we are dedicated to helping those affected find the help they need. Gambling is often a hidden issue, so we are keen on speaking out to raise awareness, reduce this stigma and encourage people facing difficulties to seek support.
"Whether you have an addiction, are affected by somebody else's gambling, or are just concerned about your spending habits, quality help and advice is available for you in Leeds."
Sam Wood, Peer Mentor at NHS Northern Gambling Service, said:
"For all those struggling, there is hope for a different future, to find yourself again and achieve your potential.
"The NHS Northern Gambling Service is a clinical team made up of psychologists, therapists, psychiatrists, and mental health nurses. We also have Peer Mentors – people who have recovered from gambling addiction.
"Together we can help you achieve a positive future free of gambling. Talking to someone is often the most important first step."
Hessel Williams, Service Manager at Leeds Community Gambling Service, said:
"We want to ensure that everyone in the city of Leeds has access to get support when it comes to gambling harms. Whether that be for their own gambling or for the concern of someone else. We intend to reach out to both professionals and communities in a bid to raise awareness of gambling harms."
Find out more about the support available in Leeds- https://www.leeds.gov.uk/leedsmic/problem-gambling