First major section of Transforming Cities Fund programme's sustainable travel route completes
Work to build new sustainable transport infrastructure on Wimborne Road West and Leigh Road has now completed and the 2.3km stretch of new walking and cycle paths and crossings are open and ready for use.
It is the first project to be completed as part of Dorset and BCP councils' Transforming Cities Fund2 programme, which includes a 78km network of new walking, cycling routes and bus improvements being rolled out across south east Dorset.
This sustainable travel project forms part of the 27km green travel route connecting Wimborne and Ferndown with Poole town centre, and provides direct links to key employment, retail and education sites including Ferndown and Uddens Industrial Estate, Newtown Business Park, Turbary Retail Park, West Howe Industrial Estate, Tower Park, Poole Hospital, Bournemouth and Poole College and several local primary and secondary schools.
The final stretch of the improvements between Lonsdale Road / Quarter Jack Park and Brook Road was recently completed with the re-surfacing of the whole road and new lines being painted.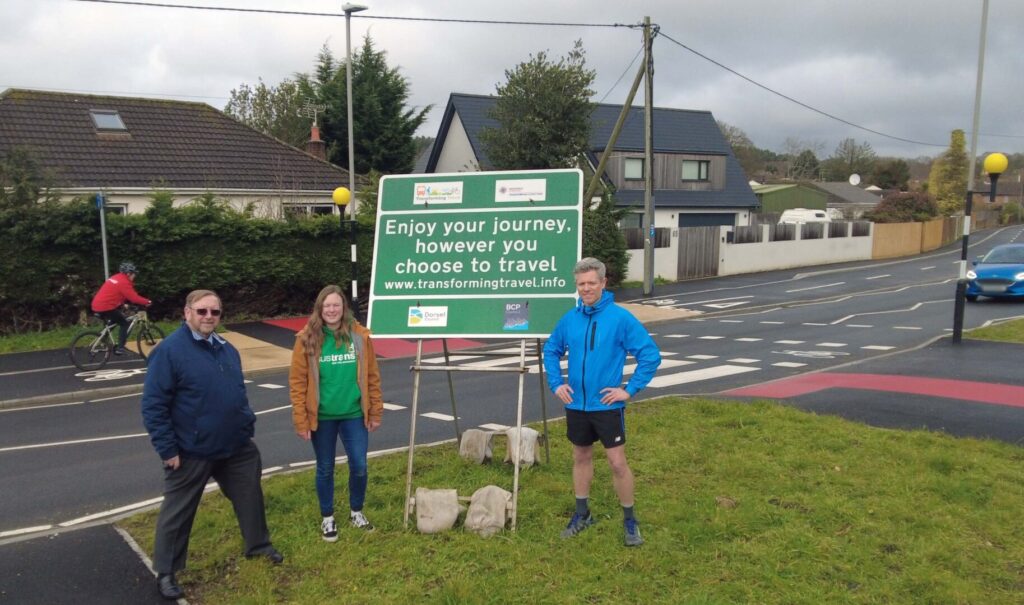 The improvements include:
New, continuous 2.3km footpaths and cycle lanes from the Canford Bottom roundabout to the junction with Brook Road. Some sections have one-way cycle lanes either side of the road, and other sections have a two-way cycle lane on one side of the road.
Three new crossings, two of which are parallel crossings that allow both pedestrians and cyclists to cross at the same time.
Significant improvements made to the bus stops along the road with raised kerbs to help with access to buses.
A reduction in the speed limit from 40mph to 30mph to make the road safer for drivers, cyclists and pedestrians.
Junction improvements along Leigh Road giving priority to people walking and cycling around the area.
The resurfacing of the entire road from Canford Bottom Roundabout to the Brook Road Junction with all potholes filled and repaired.
Wildflower seeding and planting including new trees.
Councillor Ray Bryan, Portfolio Holder for Highways, Travel and Environment at Dorset Council said:
"The completion of this exciting project is quite a milestone in the whole south east Dorset TCF programme. It shows that both Dorset and BCP councils are serious about investing in sustainable transport infrastructure.
"We have one of the most congested regions in the country and we need to find ways to reduce that congestion. Building more roads isn't a viable solution, there's isn't the space.
"We're leading the way with these new cycle and walking paths, future proofing travel now and for generations to come.  It takes time to adjust to change but we hope people will enjoy using these new walking, cycling and bus facilities on their journeys to work, school or leisure.
"Cars can still use the road as they always have done, the big change is the space we've created to make it safe and easy for people to walk and cycle along this route too.
"With the government's climate targets in mind, we need to provide a choice of transport options for residents allowing them to choose alternative, greener, more active forms of transport, particularly for those shorter journeys, which will in turn take cars off the roads making them less congested for those that still need to drive.  It's about creating better journeys for everyone, however we choose to travel."
Sarah Leeming, Interim Director for south of England for Sustrans said:
"It's great to see this project on National Cycle Network Route 256 complete and open for everyone to enjoy.
"Dedicated space for walking, wheeling and cycling is so important for helping more people to choose active and sustainable travel in the area.
"This brings us one step closer to our vision of a network of traffic-free paths that connect cities, towns, and countryside, and are safer and more accessible for everyone who wants to use them."
Local resident and runner Mike Carhart-Harris said:
"The walking and cycle paths are a big improvement. It's great that we've got this new infrastructure in place so that hopefully over time we can change our travel behaviours and habits and maybe leave the car at home for those shorter journeys. That's something I'm trying to do myself and I think the more these sustainable travel networks are linked up with other towns and key destinations in the local area, the better."
Mark Samways, owner of local bike shop Samways & Son said:
"The cycling and walking paths are fantastic, I'm really pleased to see this investment, it feels so much safer, with plenty of space for everyone to use. The dedicated walking and cycle paths and reduced speed limit are both very welcome safety improvements and will really encourage people to travel actively in the area when they can."
All traffic management has been removed and the construction work being undertaken by Dorset Council along Leigh Road and Wimborne Road West has completed. A short section of the walking and cycle paths on both sides of Leigh Road at the junction with Lonsdale Road will be completed later this year.  The developer is constructing a new signal-controlled junction at this junction which forms the entrance to its Quarter Jack Park development. This work will complete these sections and provide safe crossing points over both Leigh Road and Lonsdale Road.
The scheme has been largely funded through central government's south east Dorset Transforming Cities Fund (TCF)1 and was the first project to begin under this programme, starting in January 2020.  It has been supplemented by further money from the councils, Sustrans, and local transport and business organisations. Together this gives a total budget of over £102m.
The Wimborne Road West / Leigh Road project is part funded by a £500,000 grant from the Department for Transport through walking and cycling charity Sustrans' Paths for Everyone programme. The new traffic-free section improves this stretch of National Cycle Network Route 256 and provides a safer and more enjoyable experience for those travelling actively to and from Wimborne Minster.
The objective of south east Dorset Transforming Cities Fund programme is to provide more sustainable forms of transport to transform local travel, reduce road congestion and greenhouse gas emissions, improve air quality and bring economic and health benefits.