Opening date announced for new First Light Pavilion at Jodrell Bank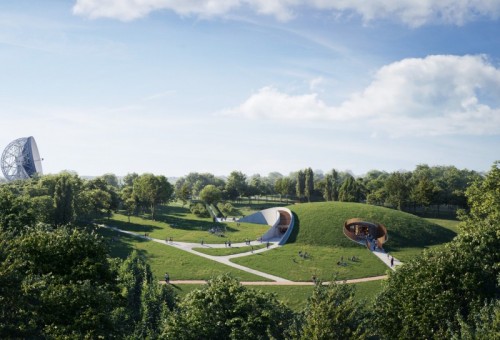 Inside the new Pavilion, visitors will be able to engage with the site's rich heritage in a brand new permanent exhibition. Created by leading exhibition designers Casson Mann, the First Light Exhibition will bring to life the Jodrell Bank story, which dates back to 1945 and the birth of a whole new science: the exploration of the Universe using radio waves instead of visible light.
Professor O'Brien, Associate Director, Jodrell Bank Centre for Astrophysics, explains: "That transformational development in this quiet corner of Cheshire completely opened up humanity's understanding of the universe and allowed us to discover previously undreamt of things such as pulsars, quasars, and even the fading glow of the Big Bang."
Exhibition audiences will be able to see a range of fascinating archive materials brought together for the first time, including audio, film, diaries, letters, plans, notebooks and photographs. Highlights include a number of personal items belonging to Jodrell Bank's founder Sir Bernard Lovell.
Meanwhile, visitors will also be able to experience vivid planetarium-style shows in a custom-built auditorium, complete with a curved projection screen and an impressive nine digital projectors. A new temporary exhibition gallery with an opening show all about the realisation of the First Light project will also feature in the new building.
A 130-cover café, complete with a terrace overlooking the Jodrell Bank Arboretum and a fresh menu using seasonal and sustainable produce, is yet another part of the development. Plus, a new guided tour that takes visitors to previously inaccessible parts of the Jodrell Bank site will also be launched later in the year.
A series of preview and pilot activities for First Light begins this month, with the public opening set to take place on 4 June 2022. The launch will be complimented by a celebratory summer-long season of community-engagement activity, public events, and a new formal education programme.
Eilish McGuinness, CEO of The National Lottery Heritage Fund said:  "The National Lottery Heritage Fund awarded £12.5 million to the First Light Project so that the site's powerful human stories of curiosity, exploration and discovery could be shared with the public. The stunning new building, its exciting exhibition, and an incredibly diverse and inclusive engagement programme, will all have a fantastic impact, delighting and inspiring every visitor."
First Light at Jodrell Bank is supported by the National Lottery Heritage Fund, the UK Government (DCMS), The University of Manchester, and a number of kind donors, including the Wolfson, Garfield Weston, Denise Coates, and Stavros Niarchos foundations.