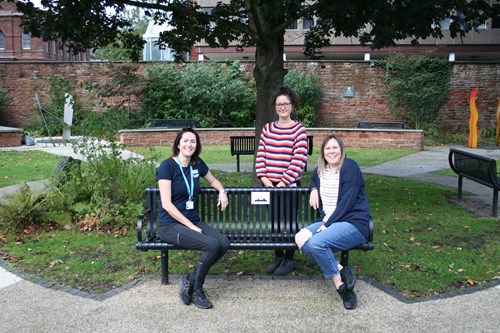 Benches where people can combat loneliness by sitting and having a friendly chat are being installed in towns by Living Well coaches in Cumbria.
Across the country, several communities have created Happy to Chat benches as a means of tackling loneliness. Benches are fitted with a plaque that denotes it as a 'Happy to Chat' bench: the idea is that sitting on the bench acts as an open invitation to others to stop by and say hello and engage in conversation.
Three happy to chat benches can be found in Penrith. These are located in St. Andrew's Churchyard; Castle Park, near the bandstand; and in Coronation Park behind the Town Hall.
Eden District Council's Communities Portfolio Holder, Cllr. Lissie Sharp, said: "I'm really happy that Eden District Council are part of this initiative. Providing an inviting and safe place to encourage people to visit, sit and talk, to reconnect with friends and family and make new friendships is a wonderful way to bring people together to help tackle loneliness and improve the well-being of our residents."
Lucy Fawcett, Living Well Coach in Eden, said: "effects on welfare have been significant. These aspects are closely correlated with physical health co-morbidities, having a colossal detrimental effect to people's well-being and emotional states.
"The benches are now all in-situ, plaques attached. We want to lead with our currency of compassion sharing this social opportunity with the public. Social openings are essential right now as statistics highlight many older people can go days without seeing or speaking to anyone, this is a great need here in our locality with the geographical implications."
ENDS