Halloween Activities this October

Posted on Tuesday 5th October 2021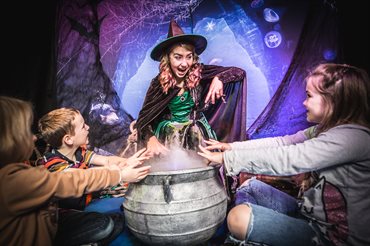 Blackpool doesn't just do light – we also do dark pretty well too!
This October will see a spook-tacular line-up of themed events and attractions to celebrate the creepiest time of the year.
The Halloween programme, which includes activities for all ages, takes place against the backdrop of the famous Illuminations which are lit each night for the rest of this year.
These are just some of the events lined up throughout the month. VisitBlackpool's website has full details including times and booking details. 
Attractions
 Dare to ride at Blackpool Pleasure Beach where there is an extraordinary programme of spellbinding Halloween adventures this October. There are 11 nights of Journey To Hell Freak Nights guaranteed to give you a hair-raising, after-dark experience. Watch out too for Lougarock, the 8ft tall werewolf; join late-night thrill sessions on October 23 and 30; ride on the world's original Ghost Train; or book a ticket for the Circus Of Horrors show, amazing and bizarre in equal parts! There's also a child-friendly matinee version of the show for youngsters.
Back by popular demand, Blackpool Zoo is staging Spookfest during half-term, challenging visitors to unravel the mystery of the missing pilot as parts of the park are eerily transformed, reflecting the days when the zoo was the site of an aerodrome.
 Where better to celebrate Halloween than the Blackpool Tower Dungeon? Get dunked head first into 1000 years of grisly and hilarious history as the live actors and immersive sets bring Lancashire's mysterious past back to life.
 Check out the famous Haunted Hotel in the tableaux section of Blackpool Illuminations. Watch out for the spooky holograph and special lighting effects with ghosts, goblins and witches played out to classic songs like Thriller and Monster Mash.
 Will you brave the Pasaje del Terror, the UK's longest and most intense scare attraction? Located just outside Blackpool Pleasure Beach, you will find 18 actors lurking in the dark representing characters from some of cinema's scariest horror movies.
 SEA LIFE Blackpool has turned from aquarium to "ascarium" with a special underwater trail giving visitors the chance to help the Sea Witch find missing ingredients for a magical potion.
 Join The Victorian Ghost Hunter on a Blackpool Ghost Walk as he guides you to some of Blackpool's most famous and most haunted locations with his tales of the supernatural.
Or take a haunted tram tour as our resident Ghost Hunter regales passengers with spooky stories as the tram rumbles along the Promenade.
Events
Celebrate in style (and vigour) with themed children's parties at Ascent Trampoline Park during October-half-term
 Head for the Pumpkin Festival at Ridgeway Farm where children can pick their own pumpkin and take it back to the orchard to decorate it to their heart's desire
 A grown-up trip to Blackpool is never complete without a visit to the witty and colourful drag show Funny Girls. This Halloween, enjoy a frighteningly fantastic night out with this special themed performance.
If cinema is more your thing, the Regent Cinema has a Halloween film-fest with the screening of some cult classics during the month including Scream, The Shining, Nightmare On Elm Street and Brides of Dracula.
For those who delight in the mysteries of life and the afterlife, Hangar 42 at Blackpool Airport is hosting a series of Most Haunted experiences with expert guidance on all things paranormal. Enter at your peril!
 For a family fun party, head to Central Pier's Pirates Bay bar for lots of Halloween themed competitions – fancy dress is encouraged!
A VisitBlackpool spokesperson said: "Our programme of Halloween events and attractions gets bigger and scarier with each passing year.

"This year we have got activities on throughout October with something for visitors of all ages. It's amazing to see how inventive our attractions and venues can be when it comes to creating things that go bump in the night!"
The October Halloween programme is part of an extensive autumn/winter season in Blackpool during 2021:
The Illuminations are shining every night until January 3; the award-winning Lightpool Festival which features a spectacular mix of light installations and live performance takes place from October 15-30; and Christmas In Blackpool, which includes free ice skating, snowfalls, magic forest, outdoor lightshows and festive market, runs from November 19 until January 3.

Posted on Tuesday 5th October 2021