Student shines again in new music video
A University of Bedfordshire student has starred in a new music video with Rizzle Kicks star Jordan Stephens and singer-songwriter Miraa May.
Annie Apakoh, who is in her second year of studying Media Performance for Film, TV & Theatre, stars in the video for 'Big Bad Mood' which was released earlier this year.
This isn't Annie's first venture into the music video industry – last summer she played a lead acting role in the music video for 'My Sister' by rapper Shaybo, featuring BRIT award-winning singer Jorja Smith.
Working through th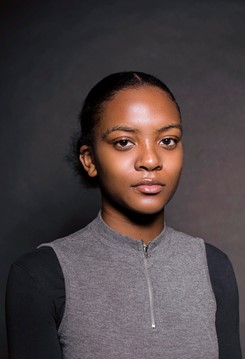 e talent-finding agency Starnow, Annie was able to book this latest gig with Jordan Stephens and hopes that there will be more exciting opportunities to come.
Annie said: "It was really exciting being in the video! The storyline was inspiring and relatable and I felt quite proud being a part of it. I met some amazing people and have made great friends while filming and learned a lot along the way.
"Hopefully it'll lead to more opportunities similar to this. I think I've found a love for filming music videos but I'm always looking for different kind of jobs in different aspects to help my skills."
In February, she also appeared in a film for this year's London Fashion Week, featuring in the piece 'Unto Dust', which focused on the impact of climate change.
Rachel Clark, Senior Lecturer in Media Performance, spoke about Annie's exciting new role. She said: "Annie is taking every opportunity she can and growing from strength to strength – we are immensely proud of her. We have built a platform for her to grow from and she is a great asset to have on our course."
Alongside her extra-curricular work outside of her studies, Annie recently showcased her presenting skills when she was part of a live events panel for the University's free public lecture, 'An Evening With… Melvin Odoom'.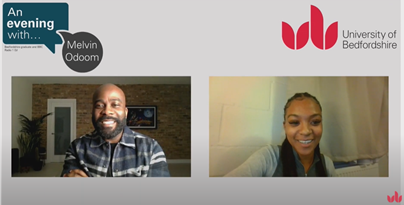 Carlota Larrea, Head of the School of Arts & Creative Industries, also congratulated Annie on her success: "It always makes us happy to hear student success stories especially when they involve getting their foot in the industry. Annie has shown tremendous dedication to her studies and engagement with external opportunities.
"The course she is currently completing with us focuses on professional media communication and builds students' confidence through a range of opportunities. We wish Annie all the best as she continues to seize any opportunities in her path."
The headline image is taken from the official music video for 'Big Bad Mood' by Jordan Stephens, featuring Miraa May.