New housing for borough's homeless provides support and security to first residents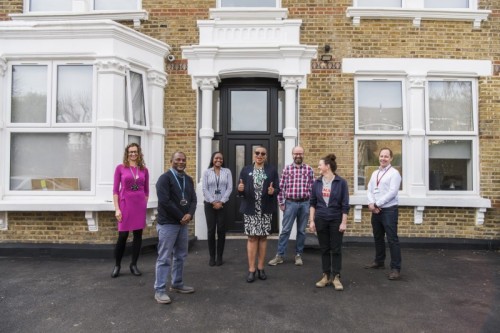 The first residents are benefiting from the support and security on offer at one of three buildings that are being delivered by Hackney Council to provide self-contained homes for single homeless people.
This work is delivering plans that Hackney Council's Cabinet approved in March 2021 to make sure that the success of the 'Everyone In' initiative during the first Covid-19 lockdown had a long term impact on our ambition to end rough sleeping and support our most vulnerable residents. The Council is carrying out extensive renovations to five buildings across the borough which will provide much needed temporary accommodation and targeted support for the borough's rough sleepers.
This week Councillor Sade Etti, Mayoral Advisor for Homelessness, Housing Needs and Rough Sleeping, visited a hostel in Finsbury Park – the first of the premises to be completed and ready to support homeless people – to see how the buildings have been transformed and to meet some of those benefiting from the new units.
The hostel provides ten self contained homes for people with multiple disadvantages that have slept rough with support provided by the London-wide charity Single Homeless Project.
It is part of a rolling programme to refurbish and reconfigure hostels in the Finsbury Park area to create self-contained units, with ensuites and kitchenettes, and improve the buildings insulation, as well as creating a number of specially designed rooms for those with high needs. 
The high specification refurbishments also include the installation of wifi, CCTV, 24-hour security and on site hostel managers and caretakers – in line with the high standards set for all new Council hostels. All of the refurbished hostels will be directly  managed by the Council.
Alongside this work, the Council is also providing a personal support service for people with medium and high needs, supported by funding secured from the Government's Rough Sleeper Accommodation Programme.
Lee, one of the first residents at the Finsbury Park hostel, said: "Six months ago I was rough sleeping and this place is a million miles from the life I had. It's a place that is helping to get me well and give me a proper fresh start in life. Without this support I would probably be back on the streets, in prison or possibly even dead."