Come and make a difference as part of our Organisational Development Service
Making the difference
We are excited to announce a range of opportunities to join our Organisational Development Service here at Dorset Council. We are celebrating our third birthday – over those three years we've changed significantly, both in terms of the service coming together and adapting our ways of working to deliver our services in the best way possible for our customers.
Working for us  gives you a unique opportunity to drive real changes that improve people's lives. You'll be part of an organisation that recognises your individuality and encourages you to challenge convention, voice your opinions, and deliver innovative solutions. And you'll feel good, knowing you're helping to create a future for Dorset that benefits local communities both now, and for generations to come.
Interested?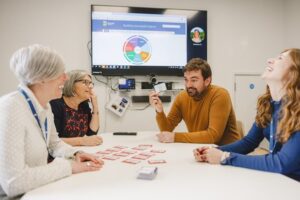 We have an ambition of putting the council at the heart of the community, and we are one team that all have that vision of making Dorset a great place to live, work and visit. In doing this, we work together to find innovative solutions, be ambitious and deliver services that put people first – around their needs now and in future.
If you are looking for an opportunity to make a difference in a forward-thinking organisation, that supports your professional growth and development, and that cares about your personal wellbeing – we have several fixed term roles available.
In Dorset you'll find an organisation that values your contribution and supports your professional growth and development. We care about your personal wellbeing and you'll enjoy working in an open, supportive environment, where you respect the integrity of the people around you and they respect you.
A message from our Chief Executive, Matt Prosser https://youtu.be/o8ZYQYSsSoM
Why Organisational Development (OD)?
The OD Service is a multi-discipline team, working together to support the organisation to achieve its vision of making Dorset a great place to live, work and visit. With many of our customers being our people within the council, and our prospective employees, we very much focus on making Dorset Council that 'great place to work'.
Our service is made up of our Learning and Development team, our Organisational Development team and our Wellbeing team, working together to achieve our goal of being an employer of choice – we want to attract, retain and develop the best people for Dorset. We seek to understand the needs of the council, managers, teams and individuals to help build a high performing council, for now and in the future.
Our service plays a critical role in supporting the council to work differently and on our journey together as One Team. This strong ethos within Dorset Council is a key driver within our team, so collaborating with colleagues to achieve the best outcomes for our communities is an essential part of our behaviours and ways of working. As a member of our wider team, you will play a part in establishing us as a service, building and maintaining effective relationships across the organisation.
Our focus:
As a service our focus is to work with our people to improve our organisation's health and effectiveness in a sustainable way. Three key areas of focus for us, and our reason for recruiting, are to support our work around developing our managers, growing our apprenticeship offer and embedding practice that supports the wellbeing of our workforce.
Our managers play a key role in delivering OD across the organisation effectively, they 'do OD' the most. With over 800 people managers in Dorset Council, we want to ensure they have the skills, competence and confidence to manage their people in the best way, so we are looking to grow our leadership and development programme for that community; we want to support them in realising their potential, giving them the tools and resources to develop their leadership and management practice in a sustainable way.
We also want to expand our apprenticeship offer across the organisation – not just for our existing employees but we also want to develop progression pathways, including placement opportunities, to attract and recruit new talent into the organisation and really make Dorset a great place to live, work and visit!
Take a look at what Aidan Dunn, our Executive Director for Corporate Development, had to say about apprenticeships as part of our National Apprenticeship Week events: National Apprenticeship Week – Aidan – YouTube
Supporting the organisation to have a healthy and thriving workforce is important to ensure we can achieve our council ambition. We have all faced challenges over recent years, and the wellbeing of our people, teams and communities is as important now as it ever was. Our new wellbeing strategy is looking to embed positive wellbeing further into the heart of our organisation, offering the right support, advice and guidance to those that need it, aiming for a preventative rather than reactive approach.
What roles are available?
We have 5 roles for 2-year fixed term contracts, and 1 permanent role we are looking to fill. They are:
Apprenticeships and Work Based Learning Lead – this position will focus on developing our apprenticeship and work-based learning strategy, leading this new team to meet customer needs around our offer, driving up and monitoring the quality and value of the provision whilst maximising the use of our levy funding. This post is a 2-year, fixed term position.
L&D Consultant: Apprenticeships – this position will be a part of our new Apprenticeship and Work-based learning team and will work with managers, teams and other stakeholders to identify apprenticeship needs, designing, delivering and commissioning timely solutions to maximise the use of our levy funding. This post is a 2-year, fixed term position.
2 x L&D Consultants: Leadership and Management – these roles will be influential in designing and delivering a new leadership and management development programme in a modern and forward-thinking way, focusing on our new and existing managers to deliver learning in the best way. These are 2-year, fixed term positions.
2 x Employee Wellbeing Advisers – these roles provide specialised advice and guidance, managing referrals to our talking therapy services and working across the organisation to improve the health of our workforce through the delivery of our new wellbeing strategy. We have one permanent vacancy, and one 2-year, fixed term position available.
 Our proudest achievements as a service, so far…
We often refer to ourselves as a young organisation, but we are an even younger service. We are proud of how we are coming together as One Team to deliver the best OD service, being clear in our aim of helping to make Dorset Council a great place to work, by ensuring our people have the behaviours, tools, resources, support and opportunities to thrive.
Our behaviours are the perfect example of our ambition of co-creation. They were developed in collaboration with our Employee Forum, and truly reflect our One Team ethos – they were developed for our people, by our people. We can see respect, recognition, responsibility and collaboration in much of the work we, and the council itself, delivers. Though we can always further embed these behaviours, we are proud of the way they are lived in our organisation.
We are continually learning and growing as a service and are role modelling in our new ways of working; working predominantly from our homes and virtually over the past few years, we are now moving to a way of working that delivers our service in the best way possible, not just the best way virtually. By adopting our forward-thinking approach and utilising our technology and workspaces together, we are delivering our services by putting our customers first.
Alongside our new ways of working, we are transforming our services to hybrid delivery, ensuring we have a fit-for-use offer than can be delivered virtually, face-to-face or in a hybrid way, ensuring that neither face to face nor virtual are our default.