Covid restrictions easing made me tackle my confidence issues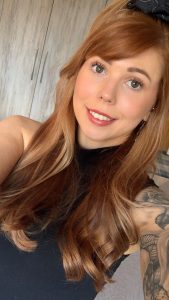 Twenty-eight-year-old Toni Pilling realised that her lack of confidence was holding her back in life. Toni reached out to MyWellbeing IAPT Service and has never looked back, crediting the service with giving her a new lease of life. Toni is now using her own experience to encourage other people to get support.
Toni said: "I've struggled with my confidence, since I was a teenager. When we were in lockdown, I started to realise it was a bit of a problem. Spending so much time by myself heightened my anxiety and made the problem worse. I wanted to be an independent, confident person – but something in my head was stopping me from being the person I've always wanted to be."
Toni continued: "I'd started to rely heavily on my boyfriend for things like coming with me to the shops. If he asked me to go out and get some milk, I'd do everything I could to try and avoid it. I wanted to join the gym, but I wouldn't join because I was too nervous about going on my own. I wasn't very independent. I was getting frustrated that I was stopping myself from doing things in life on my own. My partner gave me the encouragement to do something about it and that's when I contacted the MyWellbeing team.
"My therapist recommended Cognitive Behavioral Therapy (CBT). I had a meeting every two weeks and we worked on different techniques to reduce my anxiety.  We set goals for the things I wanted to achieve by the end of the course, and we set mini goals towards them. One of my goals was to eventually join the gym; we started with going for a walk on my own, once a week, and then building that up. Then I joined a yoga class, so I was slowly building my confidence, and recently I joined a gym.
"Tackling the issue has given me more confidence and I feel like I'm relying less on other people, especially my partner. It was little things like doing the food shop, I didn't like going on my own, as I found it overwhelming, and now I feel like I can be more helpful at home because I can just nip out and do things by myself. It's been great to regain my independence and not rely on other people.
"Since seeking support, my partner, friends and family have noticed that I'm a lot happier and confident around them. I'm also a lot more spontaneous about going out with my friends, whereas before I would need to plan and make sure I looked a certain way before I went."
Toni added: "Seeing the change in me has inspired another friend, who lacked confidence and had anxiety during lockdown, to get support. I'm just so glad that I did it, as it wasn't as scary as I thought it would be. It's enabled me to live the life I've always wanted to live and not hold myself back anymore!"
Bradford District Care NHS Foundation Trust's MyWellbeing IAPT Service is open to anyone over the age of 16 who is registered with a GP in Bradford, Wharfedale, Airedale or Craven.
People don't have to go through their GP to access support, they can register online at www.bmywellbeingiapt.nhs.uk
For information on all mental health and wellbeing support services in Bradford and Craven and self-help resources and apps, visit www.healthyminds.services.