Help save lives by having your say on how to prevent suicides in Cornwall
Residents are being asked to help shape the Suicide Prevention Strategy for Cornwall and the Isles of Scilly and save lives.
Cornwall Council's public health team and the local NHS are urging people to have their say on the document, which outlines the plan to reduce the suicide rate to the same as the national average or lower by 2027.
There is no acceptable number of suicides, and the long-term goal is towards zero.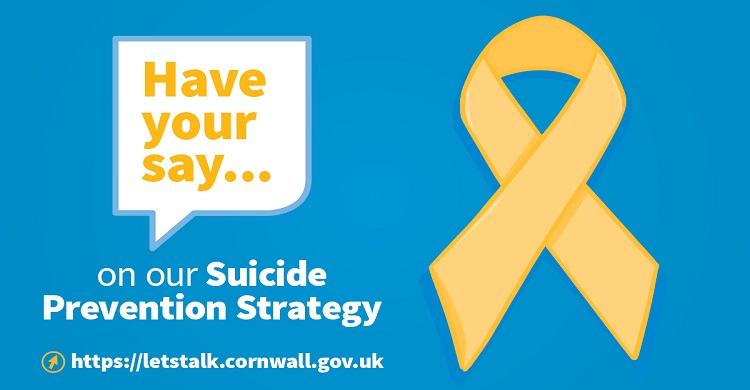 The strategy is broken down into four clear strands:
Creation of a strong local intelligence network and sharing of best practice
Promotion of healthier, more connected and safer communities
Targeted suicide prevention and early intervention
Support for people impacted by suicide
To find out more, read the draft strategy and complete the consultation survey visit https://letstalk.cornwall.gov.uk/suicide-prevention before May 30 this year.
Paula Chappell, Public Health Practitioner and suicide prevention lead in Cornwall's Public Health team, said:
"Cornwall and the Isles of Scilly has one of the highest self-harm and suicide rates in the country so it is vital that we promote good mental health and can identify and support people in crisis.
"Suicide prevention is a collective responsibility meaning people and organisations must work together to ensure support is embedded in our communities, workplaces and educational settings.
"Each death by suicide is estimated to affect over 100 people on average, making suicide prevention everyone's business, which is why we want to hear your views. We will review all of the responses to the survey and use them to inform the final version of the strategy."
Tim Francis, Cornwall's Associate Director of Mental Health and Learning Disabilities Strategic Commissioning, said:
"Suicide can be avoided and we are committed to supporting people to manage their mental health and avoid reaching a crisis when they feel at their lowest.
"The loss of any life can also have a devastating impact on families and friends and we want to strengthen the support to people who are affected by suicide.
"We want to ensure our services meet people's needs and are asking people to tell us what they think of our plans, what they like, and what they would like to see more of. We particularly want to hear from anyone with first-hand experience of suicide who has a dynamic idea about what support would have helped them or their loved ones.
"There are lots of people across Cornwall and the Isles of Scilly with innovative ideas but need some help to make them a reality. We want people to help us comment on our plans to ensure we support people as best as we can."
Cllr Dr Andy Virr, Portfolio Holder for Adults and Public Health, said:
"Every life lost to suicide has devastating consequences for families, friends and communities so it is crucial that we get this strategy right as it will shape our approach to suicide prevention for the next five years.
"Death by suicide is not inevitable and suicide is preventable. So please fill out the survey and help us to move towards zero suicides in Cornwall. Your contribution could make a big difference."
To request a hard copy of the survey people can email suicideprevention@cornwall.gov.uk or call 0300 123 1118. An easy read version will also be available.
If you are worried about your own or someone else's mental health call the Cornwall and Isles of Scilly 24/7 NHS mental health response line on 0800 038 5300. It's free to access by anyone, any age, any time, day or night.
Press release published on April 22, 2022.