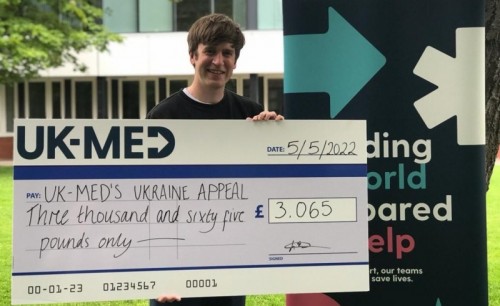 A member of staff from The University of Manchester has completed a marathon cycling challenge, raising over £3000 for UK-Med's Ukraine Appeal in the process.
News and Media Relations Officer Joe Stafford completed the Ronde van Nederland route in 14 days, cycling a distance of 1600km – the same as cycling from the University to Benidorm as the crow flies. Along the way, he spoke to many people to raise the profile of the work UK-Med is doing, and posted about the journey on social media and his Cycle 4 Ukraine fundraising page.
He quickly found that despite its reputation as a flat country, cycling in the Netherlands is often far from an easy ride – the east can be just as hilly as England in places, and conditions in the rest of the country can be extremely windy. 
Joe says: "The last two days were so difficult due to the wind that I could barely stay upright, or even breathe properly at times – it was really tough to complete! But I was so glad that I managed it – the knowledge that I was inspiring people to donate to such a good cause kept me going at the times when I felt like giving up."
He adds: "I met so many lovely people on my journey, and was amazed at how generous the Dutch were – the whole country seemed to be involved in the Ukrainian aid effort somehow, with even the smallest of villages hosting refugee families, fundraisers happening everywhere and Ukraine flags flying from houses and buildings in most places I cycled through.