Posted on Friday 20th May 2022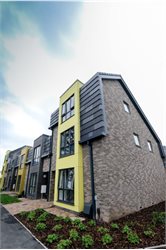 Blackpool has come out on top at the Northern Housing Awards after scooping three awards at the ceremony this week.  
Blackpool Council received the top honour being named Council of the Year. The award recognises the council's proven track record in delivering new homes, finding new and innovative ways to release land for development and tackling homelessness.
Cllr Lynn Williams, Leader of Blackpool Council, said:
"I am absolutely thrilled that we have been named Council of the Year in the Northern Housing Awards, this follows on from receiving the same title in UK Housing Awards in November.

"We pride ourselves on using every available tool to make housing work in Blackpool. We've created an award winning housing company, with the housing strategy and homelessness functions at the centre of the Council.

"Due to the lack of available land to build on, our focus is on place making and regeneration, utilising our companies to find the best way to increase the number of suitable and affordable homes for our residents.

"In order to improve the lives of our residents we must improve the quality of the accommodation in which they live – everyone has the basic right to live in decent quality homes.

"It is wonderful for everyone who works in housing, across the council and in our companies, to receive this recognition for their hard work and commitment."
Blackpool Coastal Housing (BCH) received the award for Best Approach to Diversity and Inclusion. This award recognised the way BCH creates a diverse workforce, their openness and promotion of mental health and wellbeing issues, the creation of new services and the partnership with Leftcoast to meet the needs of our tenants and customers.
BCH also came away as winners in the category of Best Approach to Employee Wellbeing. This included signing up to Time to Change, staff undertaking Mental Health First Aid training and Workplace Champions who meet in the Wellbeing Group.  In addition the entry referenced the staff consultation group, staff attending Physical Activities Co-ordinator training, Wednesday Wellbeing and accommodating flexible working arrangements to support work life balance. 
BCH was also shortlisted in the categories of Best Initiative for Tackling Homelessness and Resident Support/Advice Programme of the Year.
John Donnellon, Chief Executive of Blackpool Coastal Housing, said:
"Over the past few years BCH has sought to become more innovative and collaborative in trying to deliver our vision of 'inspiring people to build better communities'. Being shortlisted for four separate awards and wining two is an excellent achievement. We're proud of the fantastic contributions from our customers and partners in helping to build strong and sustainable communities."
Blackpool Housing Company was shortlisted in the category of Best Private Development for the transformation that has taken place in a number of properties on Kirby Road.

Posted on Friday 20th May 2022