Singer, presenter, educator and chair of the College's Diversity Advisory Panel – Dionne Bennett takes some time to tell us more… 
Hey, I'm Dionne Bennett, a British/West-Indian singer-songwriter, producer, and radio personality. I'm deeply passionate about diversity within the arts and within the more formal music education sector and want black people to feel seen and represented in these areas.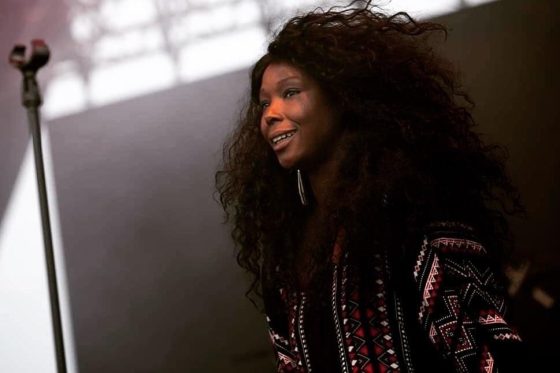 I'm the chair of the Diversity Advisory Group at the College, helping to ensure the inclusion of black music and more black and diverse artists within the curriculum and within the College. 

Alongside that I'm working with Jazz students on a vocal project, giving them the opportunity to play and perform various black music genres, as well as breaking down the hierarchical nature of music heard within colleges, while appreciating the work of black artists and their influence on music.  
I pursued my dreams after suffering an acute asthma attack where I was put into a coma and lost the ability to speak and sing due to a tracheotomy procedure.
And now here I am, writing this blog post and getting excited about not just my own career, but about the much-needed and long-awaited changes we're seeing in the arts recently – more inclusion, more representation, more diversity, more positive change in the arts and in society.  
Working with the students – exploding the repertoire!
The students and I have been working on Soul, Neo-Soul and Funk genres as well as Reggae and Lovers Rock. 
I recently performed Explode the Repertoire II with Royal Welsh College jazz students.
The idea behind these performances was to shine a light on the richness of black music and popular song, from Jazz and Soul to Motown and Reggae. Working with the jazz vocalists has been an extremely enjoyable and rewarding experience.
The students really threw themselves into the project: they knew how important it was to spotlight black music genres and musicianship, and for me, being able to come to RWCMD again to lead, guide and encourage their performances was a joy, and the end result was a great night of acknowledging and celebrating black music.   
I was so impressed with all the students and how they performed; they all sang beautifully. Watching how the students had absorbed the music and approached the songs with understanding and feeling was a pleasure.
Also, having all the vocalists on stage singing with me at the end was so much fun. It was a night that covered so many vocal-led black music genres, and after speaking to the audience, the only thing that could've made the night even better, is if they could have got up and danced by the end of the show… Next time!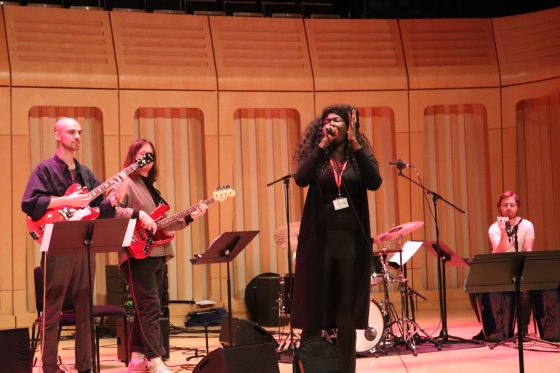 Choosing the pieces to perform wasn't easy as there are so many great songs, but first and foremost I wanted to push the vocalists and get them out of their comfort zones, by using their voice and talent in ways they'd not done before or wasn't their default singing style.
I wanted the music to broaden their technical approach and enhance their ability and flexibility in the way they sing. Keeping this in mind helped me to make a list of tracks that encapsulate the genres I wanted them to explore, and tracks that gave the instrumentalists room for expression. I also do not go for the obvious!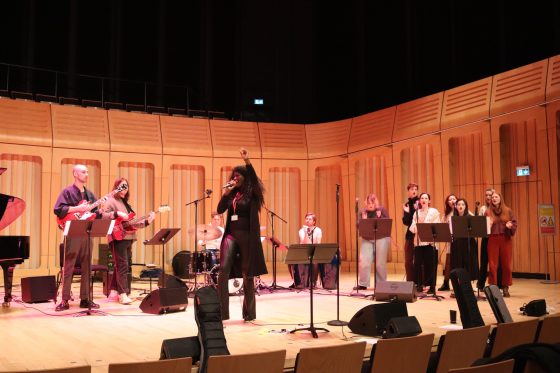 Next is to take the show on the road! We've developed an evening of great music we're calling Blue Summer which will take the work I've been developing with the jazz students around Wales into venues and schools where black music isn't traditionally heard. 
 This is a personal mission of mine and I'm so excited about this part of the project.
Having black music in schools, colleges, universities and conservatoires is something that needs to be normalized. It breaks down the hierarchical nature of thinking about music and gives respect and acknowledgement to black musicianship in its multitude of forms.

A project like this opens up avenues and possibilities for making and studying music in ways that a young person might never think possible.
The Importance of
r
epresentation 
I'm also the chair of grassroots music network Ladies of Rage. We're a group of women and non-binary people working (and also those who want to work) in MOBO (Music of Black Origin) music genres in Cardiff and beyond.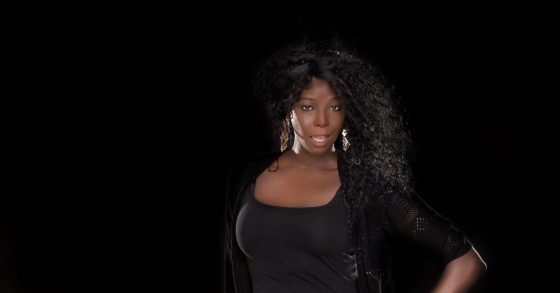 This network was set up to support women in MOBO and electronic music genres in Wales and has been highly successful in highlighting the imbalances of the industry when it comes to women and non-binary people in music.
We also provide support and advocate for 50/50 lineups and the inclusion of women when programming for gigs and events and in contributing to creating safe spaces for women and non-binary artists to perform. 
LOR and the College have recently come together to work on an Arts Council of Wales Connect and Flourish project to explore access to the arts for those who may not feel it's for them. 
Thanks to Dionne for taking the time to write this blog.
Find out more about studying Jazz at RWCMD here.
Find out more about Dionne here and her debut solo album 'Sugar Hip Ya Ya' produced by International Blues Challenge Winner, USA Blues Music Award nominee, Two Time Blues Blast Music Award nominee Little G Weevil.
Come and see us at:
Wed 22 June, 7.45 Theatr Clwyd, Mold 
Fri 24 June, 7.30pm Aberystwyth Arts Centre 
Sat 25 June, 7.30pm Galeri, Caernarfon 
Related stories: