A senior sister has been presented with a Cavell Star Award in recognition of how she has consistently gone above and beyond for her patients throughout the COVID-19 pandemic.
Jen Steedman has provided the Home Haemodialysis Service from Newcastle's Freeman Hospital for over 12 years.
She was nominated by colleague Deputy Matron Glenda Bestford who said that Jen's conviction to ensuring her home dialysis patients receive the highest quality care and support, no matter what has always been evident.
However, the challenges brought to the fore by the pandemic were met head on by Jen who simply raised the bar even higher by introducing new, improved ways of working.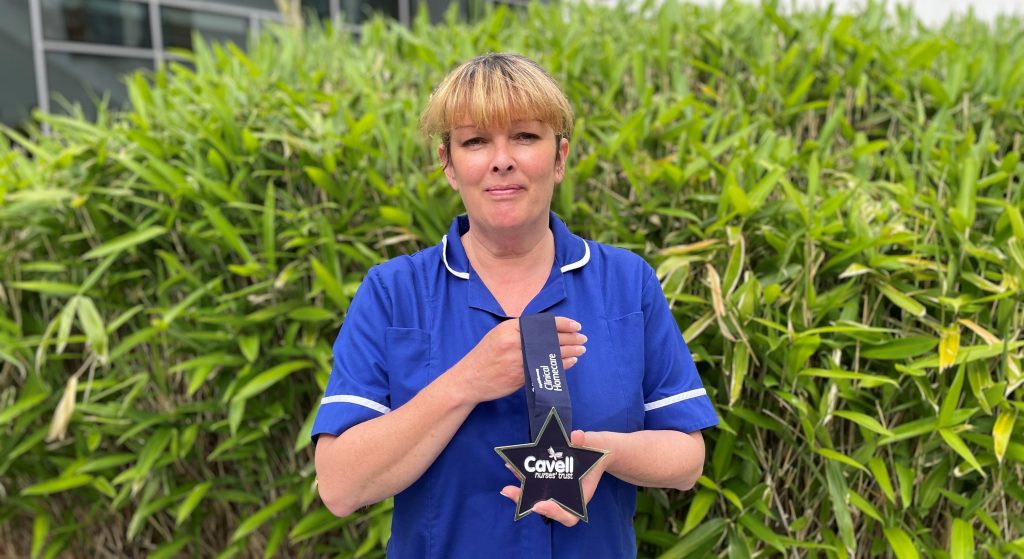 "One of our shining stars"
"Jen really is one of our shining stars who never allows obstacles to get in the way of the care her patients need," explains Glenda. "She works around issues as they arise and has a flair for seeking out solutions no matter what.
She really does go above and beyond for her patients and I thought it was time she received some recognition for her compassionate and steadfast approach to all that she does, and show how much we appreciate her.

Glenda Bestford, deputy matron for Newcastle's renal services
One example of how deeply she cares for her patients is when a carer was in ill health and unable to maintain the standards of care required to deliver the patient's dialysis in their own home.
Jen and her colleague Victoria – also a home haemodialysis sister – carried out a deep clean of the patient's home, returning the environment back to the standard required to safely dialyse at home.
Whilst not a role they would normally be expected to perform, they recognised the patient's keen desire to remain independent allowing them a good quality of life. Their intervention meant that the patient could remain at home and the carer was able to access the support they required to continue to care for their loved one.
Supporting patients throughout their home dialysis journey
Jen also introduced a home dialysis training bay in the Renal Services Centre which supports patients at the beginning of their dialysis journey, preparing them for the life-changing step towards having their haemodialysis at home.
Glenda explains: "The new bay allows Jen and her team to assess the needs of their patients and tailor their education and training package accordingly.
"They were able to support one of their older patients who, historically, would not have been felt to be suitable for home treatment due to his age and ability.
"Jen supported the patient to become competent in managing their own dialysis through bespoke guidance and training over an extended period of time, allowing the patient to learn at their pace and build confidence despite their increasing frailty.
"The patient managed their own dialysis with the help of their carer at home, with Jen supporting them, ever present when needed but in the background. This was a huge success and encouraged other patients to consider home dialysis."
Of her award Jen says: "It was a really lovely thing to do but you know, I feel like I was just doing my job which I couldn't do without the rest of the team."
35 years of renal nursing expertise
Jen, who recently celebrated 35 years long service working for the trust, trained in Newcastle and has always worked in renal medicine. She started on the old renal ward 4 then the dialysis unit (ward 22) where she was a sister for many years before helping to set up Newcastle's home dialysis service.
Jen describes what life was like during the pandemic. "Obviously our patients couldn't just stop having their treatment so we did everything we could to ensure they could continue their home haemodialysis by visiting regularly, keeping a safe distance, so that they all felt fully supported.
"I think they did appreciate it because it was a really scary time for everyone, and whilst they've been trained to confidently carry out their own dialysis, it's a big undertaking. We're there to make sure they always feel fully supported and help with any issues that might crop up.
"I love what I do," adds Jen. "I feel very lucky because I get the best of both worlds. I'm out and about meeting patients in their own homes and then come back to the Freeman so I still work with the rest of the renal team."
Congratulations Super Star Jen.
The Cavell Nurse Awards
An inspiring national awards programme, Cavell Star Awards are given to nurses, midwives, nursing associates and healthcare assistants who shine bright and show exceptional care to one of three groups of people:
their colleagues
their patients
their patients' families
If you know someone who fits the bill and deserves to be recognised then visit the Cavell Nurse Awards website: