New lesson plans help Hackney students acknowledge contribution of the Windrush generations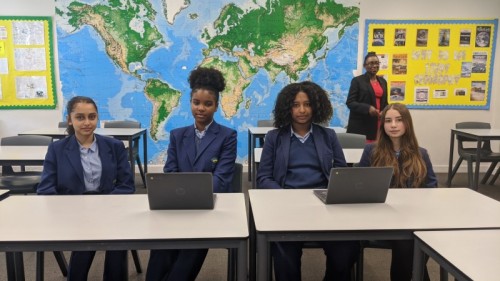 The Diverse Curriculum, launched in October 2020, features over 50 modules which can be adapted for the needs of students and used at any time. To date there have been 2383 sign ups worldwide, including from schools in Ireland, Spain, the Netherlands, Portugal, Switzerland Australia, Malaysia, Nigeria, Egypt and Brunei.
Notes to editors
The new lesson plans can be accessed here:  
Laura Henry-Allain MBE is an award-winning international writer, speaker and consultant. She is the creator of the well-loved CBeebies characters JoJo and Gran Gran as well as the series' associate producer. She is also executive producer on a few shows that are currently in development.
She is the vice-president of the British Association for Early Childhood Education, and is an educational consultant for several well-known brands as well as children's media, television and publishing.
Marlene Wylie Through 25 years of Art, Craft and Design & Technology Teaching Marlene Wylie uses a lived experience lens, to support the development of anti-racist approaches to education. Her parents arrived in Hackney from the Caribbean in the early 1960's as part of the Windrush era. She was born in Hackney and although she moved away shortly afterwards, she returned to work as a freelance textile designer and educational consultant. Her work now involves supporting and advising Art, Craft, Design and Technology Subject Leads by way of an extensive network of professional art educators in her role as President Elect of the National Society of Education in Art and Design (NSEAD)
Poppy Bienias is an Assistant Headteacher, English and Humanities Lead and Year 6 teacher at St John St James CoE school in Hackney. She is passionate about creating curriculum and cultures in schools, which respond to the diversity of the country we live in and which empower young people to explore and express what matters to them.
Hackney Windrush Art Commission
The announcement was made on National Windrush Day 2020 following an extensive consultation process which began in 2018. The final decision to select Thomas J Price and Veronica Ryan to make two separate pieces of work was made by a panel including Hackney residents, Windrush campaigners, artists, architects and local councillors including Cllr Carole Williams – Hackney's appointed Cabinet lead for Windrush. The panel was chaired by Mark Sealy, director of Hackney-based gallery Autograph ABP, with approval from Mayor Phillip Glanville.
Thomas J Price
Thomas J Price was born in South London (1981). He received his BA in Fine Art Sculpture at Chelsea College of Art (2001-2004) and completed his MA in Sculpture from the Royal College of Art in (2004-2006.) Price's practice spans sculpture, photography, film and animation. Price has held solo exhibitions at prestigious institutions including The Power Plant, Toronto, Canada; The National Portrait Gallery, London, UK; and the Yorkshire Sculpture Park, West Bretton, UK. Price's sculpture 'The Distance Within' is currently on view in Marcus Garvey Park, New York, until October 2022 as part of 'Witness'; a commissioned project with Studio Museum Harlem. In 2021 he joined the international gallery Hauser and Wirth. Price lives and works in London.
Freelands 
Freelands Foundation was set up in 2015 to give more people the chance to engage with and enjoy the arts in the UK, with a particular focus on education. Their ambition is to give everyone access to art education in the belief that it raises their aspirations and transforms their opportunities in life. They have worked with more than 30 arts organisations across England, Scotland, Wales and Northern Ireland to support artists and broaden their engagement in their communities. https://freelandsfoundation.co.uk/