Carers share their story for Shared Lives Week
It's Shared Lives Week from 13 June and to mark it we are launching a recruitment drive with help from two of our carers, David and Wendy and their Shared Lives story.
First, an introduction to Shared Lives
It's a paid for care role, which empowers people aged 16 plus who need help with their day to day lives, to live more independently. You don't need to have formal experience of care work as full training is provided. Shared Lives carers receive payment for every placement and the role can fit around your family and other commitments, including another job.
Carers share their homes and lives for daytime or overnight, and short or long term, placements. They help people learn life skills such as menu planning, cooking, budgeting and shopping, as well as enjoying leisure activities together. Some people go on to live independent lives and others stay in placements long term.
Meet two of our Shared Lives carers, David and Wendy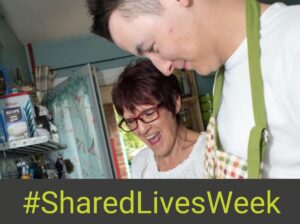 David and his wife Wendy live in West Dorset. David is retired from his role as a company director and Wendy is a care worker. They currently support Audrey, 84, who lives with them full time.
"We've been part of Shared Lives since the scheme began in Dorset." says David. "Wendy has worked in the care sector virtually all her working life and when I retired, I wanted to be more involved in care. We felt it was a great way we could work together."
The couple have gone from strength to strength and have supported seven people in total. David and Wendy chose to offer long term placements and some respite opportunities, but the role is highly flexible and carers can choose to support someone on a short term basis or provide day support.
David and Wendy undertook the necessary training to become Shared Lives carers, including courses on how to safely support someone, administer medication and deliver first aid.  "We're professional in what we do," says David. "All the things that you would expect of someone working in a care home, we have to be able to do too."
He adds: "The process of becoming a carer is thorough but the Shared Lives team offer lots of support and guidance. Becky, our Shared Lives officer, was so helpful and she guided us through every step of the way."
The element that distinguishes Shared Lives from other kinds of care says David, is family life. "Audrey is treated as part of the family. There's no invitation that comes through our door – weddings, parties, barbeques, you name it – that doesn't have her name on it!
"She comes with us to family occasions and in the local community, and amongst our friends, Audrey is widely accepted as part of our family. And that's key to what Shared Lives is all about, you're helping people to live as near normal life as they can, as part of the community."
David believes the flexibility of the role and the fact it is home based could suit a range of people of all ages and backgrounds: "You could be a stay at home parent with young children so rather than travelling to work, you might find looking after someone in your own home fits in better with your family life."
He adds: "You could be someone who has retired, like me, but would still enjoy the companionship that looking after someone can bring. The beauty of Shared Lives is that you can work in your own space at your own pace."
Find out more
Being a Shared Lives carer is hugely rewarding and fits around your commitments. Work with us to build kinder and stronger communities in Dorset with Shared Lives.  To find out more or register your interest, visit www.dorsetcouncil.gov.uk/shared-lives.