Leeds Shared Lives is recruiting carers for a rare work-from-home opportunity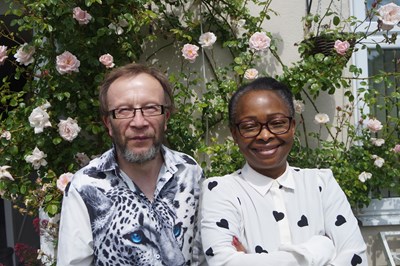 The past two years brought intense pressure for carers and those they look after as the Covid pandemic curtailed access to much needed respite care and short-term support.
With restrictions now lifted, carers once again have the chance to take a break while those they care for enjoy a change of scene. Shared Lives carers, who provide personalised care in their own homes, play a vital role in making this happen and they are the focus of Shared Lives Week 2022, which starts on Monday 13 June.
As well as celebrating the achievements of Shared Lives carers, Shared Lives Week marks the launch of a recruitment drive for more Shared Lives carers in Leeds and around the country. Shared Lives carers welcome people with care needs into their own homes to live as part of the carer's household and community life while all their support needs are being met.
Shared Lives Leeds is coordinated by Leeds City Council and provides respite care and day support, ranging from a few hours up to a stay of several days or weeks. The council is inviting applications from prospective carers, who have a spare bedroom and the motivation to care for adults with support needs.
Shared Lives offers carers the opportunity of a flexible, home-based role. Carers are self-employed, paid either an hourly rate or the appropriate fee for the type of support offered. The role attracts people from many walks of life, and the council provides full training with ongoing support through a team of link workers.
Councillor Fiona Venner, executive member for adult and children's social care and health partnerships, said:
"By generously opening their homes to people who need support, Leeds Shared Lives carers offer an invaluable service – and give full-time carers a well-earned break too.
"We are looking for more people who want a flexible and rewarding paid role that's based in their local community. Whatever your previous experience, if you can regularly offer a few hours, a day or a little longer to help people who need a break from their usual living and care arrangements we would love to hear from you.
"Our Shared Lives team at the council offers all the training and support you'll need for your new role and stays in close touch to make sure it works well for you and the person you care for."
Zioness Curry has been a Shared Lives carer since 2019 providing respite care as and when needed, alongside ongoing support for Ian who currently lives in her home. She said:
"It's called Shared Lives because that's exactly what we do – we're there throughout the day for the people we support. They are matched with a carer over a period of time, making it a very personalised service. They become part of the family, which fits in perfectly with your own life and helps them to socialise and become more independent.
"Becoming a respite carer with Shared Lives is a great way to help carers and those they look after, who depend on respite breaks to maintain their wellbeing. You'll not regret the reward of seeing someone grow in confidence and happiness."
To find out more about Leeds Shared Lives and how to become a Shared Lives carer visit www.leeds.gov.uk/joinsharedlives. You can also speak to the Shared Lives team in person at Kippax Community Hub on Monday 13 June or Pudsey Community Hub on Monday 20 June. Both drop-in sessions run from 9am to 5pm.
ENDS
Image: L-R Ian and Shared Lives carer Zioness Curry
Notes to editors
Shared Lives Week 2022 runs from 13-17 June and is promoted by Shared Lives Plus, the UK membership charity for more than 6,000 Shared Lives carers and 150 local Shared Lives schemes.
About Shared Lives carers (information from Shared Lives Plus)
Around the UK, 10,000 Shared Lives carers open their homes and hearts to someone who needs support after hospital treatment, for mental ill health, dementia, learning disability, older age or for young people leaving care.
Shared Lives carers are paid a fee based on the level of support they offer, rent and bills, in return for including someone in their home and community life.
150 Shared Lives services carefully match people together based on interests in common, lifestyle and personalities. People can visit or live with a Shared Lives carers for a few weeks, or many years.
Shared Lives care is consistently rated the best quality and safest form of care across the UK – 96% rated good or outstanding by the Care Quality Commission.
Shared Lives services are recruiting for new carers, from people who have transferable skills, as well as people with caring experience, who want to work at home.
Paid respite breaks provide intangible benefits to the morale of the Shared Lives carer workforce: those Shared Lives carers who feel valued and supported and have breaks from their caring responsibilities are much more likely to continue to make a valuable contribution and to work above and beyond their contractual obligations. 
Breaks are essential for Shared Lives carers' wellbeing and the wellbeing of people being supported. If we do have a break this will mean we are substantially worse off financially with a loss of weekly income at a time when many with larger households are already struggling with the increased cost of living.
Shared Lives care is around £20,000 a year cheaper way of supporting someone with a learning disability, than if they lived in a supported living flat. Yet it provides exceptional outcomes.
Shared Lives schemes ask people about their wellbeing over months and years, with questions that were developed by people in Shared Lives to best reflect quality of life. The answers are then inputted into My Shared Life online tool which presents how people feel about their wellbeing, and how it has changed over time, in clear graphics.
The data up until March 2022 showed:
97% people in Shared Lives felt they were part of the family most or all of the time.
87% people felt that their Shared Lives carer's support improved their social life.
82% people felt that their Shared Lives carer's support made it easier for them to have friends.
92% people in Shared Lives felt involved with their community.
85% felt their Shared Lives carer's support helped them have more choice in their daily life.
85% of people felt their physical and emotional health had improved.