Norfolk
Home | Norfolk Elections 2021



Date published: 7th May 2021
Yesterday, polling stations across Norfolk opened their doors and welcomed voters for the Norfolk County Council and Police and Crime Commissioner elections. 
In North Norfolk, we also held an election for two by-elections (Holt and Coastal wards respectively) and the Ryburgh Neighbourhood Planning Referendum.
The results from the 2021 Norfolk County Council Elections, the Holt and Coastal District Elections and the Great Ryburgh Neighbourhood Plan will be shared here.
For updates, please refresh the page. 
Counting for the Cromer, Fakenham and Holt divisions began at 13:00 with first results expected from 14:15 
Our first results are in:
FAKENHAM DIVISION:
FITZPATRICK, Thomas (CON): 1,376
REST, John (IND): 569
GOODALL, Ruth (LAB): 371 
MARSHALL-SMITH, Kristian (GRN): 256
Total votes: 2,585
Turnout: 30.61%
HOLT DIVISION:

VARDY, ERIC (CON): 1,650
BUTIKOFER, Sarah (LD): 1,311
RUSSELL, David (GRN): 292
MONTANDON, Kay (LAB): 212
Total votes: 3,519
Turnout: 47.29%
CROMER DIVISION:

ADAMS, TIMOTHY (LD): 1,745
PARKER, Richard (CON): 1,071
RUSSELL, Edwin (LAB&CO-OP): 207
BOSSINGHAM, Michael (GRN): 186
Total votes: 3,240
Turnout: 39.46%

Counting has commenced for the Hoveton & Stalham, Melton Constable and Mundesley Divisions. 
Results expected at approximately 15:45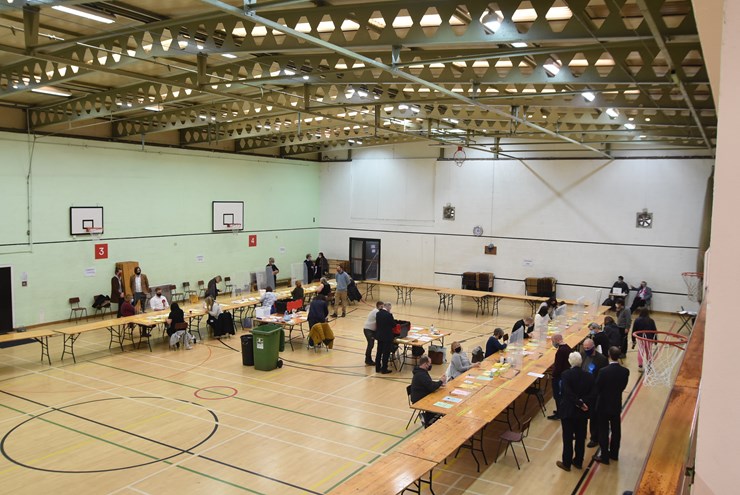 Elections staff counting for Hoveton and Stalham Division
HOVETON & STALHAM DIVISION:
DIXON, NIGEL (CON): 1,613
BUTIKOFER, Heinrich (LD): 353
STOWE, Richard (LAB): 274
MACARTNEY-FILGATE, Michael (GRN): 157
RICE, Paul (IND): 85
Total votes: 2,497
Turnout: 32.72%
MELTON CONSTABLE DIVISION:
AQUARONE, STEFFAN (LD): 1,490
WILTON, Jonathan (CON): 1,291
WOOLGAR, Rosemary (GRN): 212
SHAW, Rebecca (LAB): 202
Total votes: 3,213
Turnout: 42.22%
Mundesley Division announcement delayed for recount
Counting for North Walsham East, North Walsham West & Erpingham and Sheringham Divisions has commenced. 
MUNDESLEY DIVISION:

MAXFIELD, EDWARD (IND): 1,128
FREDERICKS, Wendy (LD): 1,052
RILEY-SMITH, Crispian (CON): 891
HAYWOOD, Jasper (LAB): 140
TAYLOR, Mark (IND): 109 
Total votes: 3,337
Turnout: 44.26%
NORTH WALSHAM WEST & ERPINGHAM DIVISION:
PENFOLD, SAUL (LD): 1,259
PAYNE, Jonathan (CON): 1,206
MELHUISH, Christopher (GRN): 315
OWEN, Claudia (LAB): 241
Total votes: 3,037
Turnout: 39.59%
NORTH WALSHAM EAST DIVISION:
SHIRES, LUCY (LD): 1,303
PORTER, Pauline (CON): 1,256
JONES, Graham (LAB): 218
DIXON, Elizabeth (GRN): 191
Total votes: 2,993
Turnout: 35.19%
SHERINGHAM DIVISION:
OLIVER, JUDITH (CON): 1,590
WITHINGTON, Elizabeth (LD): 1,157
BARTLETT, Ruth (GRN): 150
GREWCOCK, Simon (LAB): 171
BOLSTER, Tony (OMRLP): 45
Total votes: 3,130
Turnout: 45.89%
Counting has commenced for Wells and South Smallburgh divisions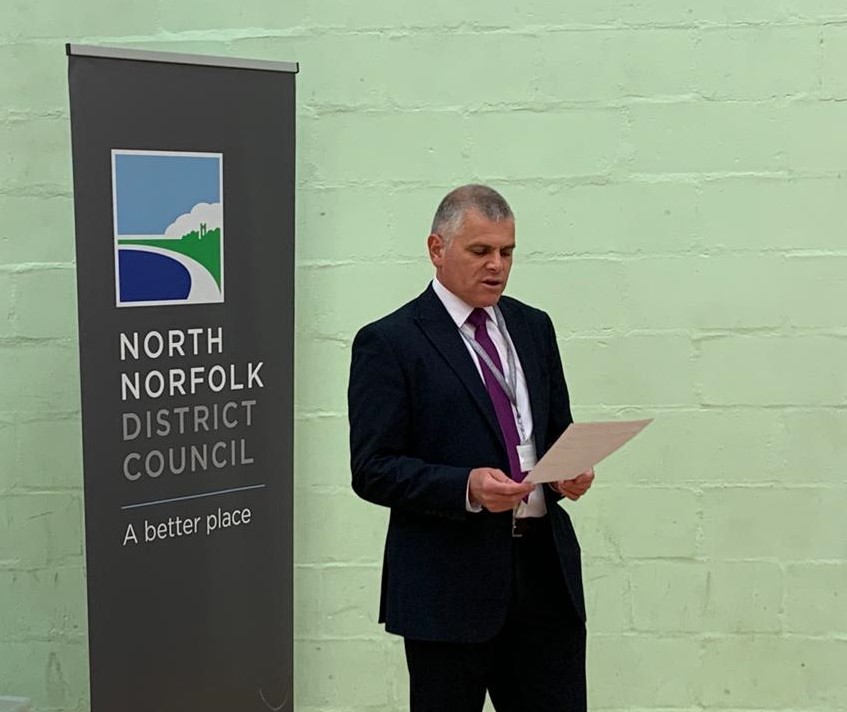 Local Returning Officer and Chief Executive, Steve Blatch announcing declarations
Holt and Coastal District Wards are currently being counted; results for Wells and South Smallburgh expected soon
WELLS DIVISION:
DALBY, MICHAEL (CON): 1,312
BROWN, Andrew (LD): 916
HORNE, Xenia (LAB): 205
GREEN, Stephen (GRN): 204
Total votes: 2,674
Turnout: 40.02%
SOUTH SMALLBURGH DIVISION:
PRICE, RICHARD (CON): 1,381
VARLEY, Adam (LD): 1,165
FILGATE, Anne (GRN): 198
GAYNOR-POWELL, Finola (LAB): 133
COPPACK, Nicholas (IND): 86
Total votes: 2,980
Turnout: 41.71%
ALL COUNTY DIVISIONS HAVE BEEN DECLARED
COASTAL WARD: 
HOLLIDAY, ALISON (CON): 585
BAILEY, Philip (LD): 303
GEE, William (LAB): 108
Total votes: 998
Turnout: 49.70%
HOLT WARD:
VARDY, ERIC (CON): 837
READ, Jonathan (IND): 738
HAYWOOD, Jasper (LAB): 112
COPPACK, Nicholas (IND): 63
Total votes: 1,773
Turnout: 47.20%
ALL DISTRICT RESULTS HAVE NOW BEEN CALLED
CATFIELD PARISH:
GARDINER, JUDITH: 181
HARRIS, Jennifer: 167
Total votes: 357
Turnout: 44.40%

REFERENDUM ON THE NEIGHBOURHOOD PLAN FOR RYBURGH:
DO YOU WANT NORTH NORFOLK DISTRICT COUNCIL TO USE THE NEIGHBOURHOOD PLAN FOR RYBURGH TO HELP IT DECIDE PLANNING APPLICATIONS IN THE NEIGHBOURHOOD AREA?

YES: 213
NO: 32