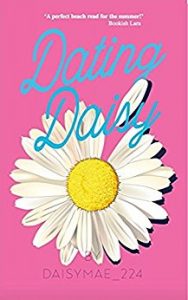 "Bridget Jones meets Sex in the City?!" so they said! …
New novel – Dating Daisy! (Second Edition)
23rd March 2018
Blenheim Press
About the novel Dating Daisy –
Internet Dating? – in middle age?
– Why yes …
… That's Daisy Mae – aged 52!
Daisy, recently divorced from ex-husband Voldemort, bravely takes the plunge and starts internet dating. Having not had to think about dates for nearly three decades, and with rudimentary computer skills, Daisy is completely naive about the internet dating process. While dating – Daisy continues to work as a doctor in the sexual health clinic.
This is a humorous, fiction book, but based on the authors' experiences. Daisy keeps a diary and tells the story as it is – often with hilarious consequences. The medical/ sexual health stories are quite unique.
Daisy tells her story with breathless enthusiasm. She is supported on her journey by a variety of characters – the amigos who live in the swanky house with the swimming pool up the road, and her friends, the irrepressible Pinky, Jeanie, the octogenarian always on hand to give advice from the nursing home, and her wayward daughter, Imogen.
This is a book with a difference – it contains icons, images, limericks, jokes, poems and even a Recipe for Love! Don't miss dating Daisys' Kissing Tips and Anti-snoring tips! Most people reading this book say they laugh out loud!
Reviews (34): 4.3/5 stars on Amazon.co.uk
Reviewers Quotes:
"CAUTION: SOME STORIES CAN MAKE YOU FAINT AND THERE ARE SOME WHICH YOU WILL DIE LAUGHING..." Mahiraj Jajeda https://www.datingdaisy.net/mahirajjajedareviewofdatingdaisy
"Daisy Mae has a gift for writing. She is hilarious and poignant at times. She has a way with words that keep the reader compelled to read on. She uses amusing anecdotes regarding her daily work as a Sexual Health doctor. I laughed out loud on more than several occasions. These are real events, although it is a fiction story, that are so funny and so touching that I couldn't put the book down."
http://beforeitsnews.com/books/2018/03/hot-book-review-dating-daisy-by-daisy-mae-2524008.html
"It is realistic, humorous and filled with real life advice on internet dating. Readers will be fully entertained by this fabulous book. I'm looking forward to reading more books written by Daisy Mae, a talented writer with a fresh new voice. Chick Lit Cafe highly recommends Dating Daisy by Daisy Mae!"
http://greatreadscafe.blogspot.co.uk/2018/03/dating-daisy-by-daisy-mae-book-r
"Dating Daisy is a roller coaster ride of ups and downs, joy, sadness, disappointment and victory. Daisy's determination is inspiring. For women that are middle aged looking for a second chance, this is a must read. Especially if they are considering online dating." https://artisanbookreviews.com/2018/03/11/dating-daisy-by-daisy-mae-book-review/
For more reviews – https://www.datingdaisy.net/chicklitreviewsofdatingdaisy
Dr Daisy Mae – NHS Sexual & Reproductive Health Specialist.
(Special interest Menopause)
Doctor, Writer, Author – http://www.datingdaisy.net
Take a look at the website for Dating Daisy Book Reviews, Author Guest posts, Daisys' Book Reviews, Daisys' Blog Posts … and more …
Daisy Mae – Sexual Health Blog – The Huffington Post UK http://www.huffingtonpost.co.uk/author/daisy-mae/
Dr Daisy Blog – Menopause Matters
https://www.menopausematters.co.uk/daisyblog.php
Get in Touch with Daisy – daisymae_224@mail.com
Dating Daisy – available as paperback, ebook, and audiobook!
Dating Daisy at Amazon https://www.amazon.co.uk/Dating-Daisy-Mae-ebook/dp/B07BCK6J9H/ref=sr_1_1?ie=UTF8&qid=1521204145&sr=8-1&keywords=Dating+Daisy
Facebook – Daisy Mae, and my Dating Daisy page
https://www.facebook.com/profile.php?id=100018895352743
Instagram – datingdaisy
https://www.instagram.com/datingdaisy/
Twitter – @daisy_sharer
https://twitter.com/daisy_sharer
Action – Please make contact! I would love to do feature/review articles, guest posts, author spotlights, book readings or signings, radio or television interviews.
I would love to hear from you.
Daisy Mae
– Email – daisy.sharer@gmail.com
– Tel – 07748961624 (m)