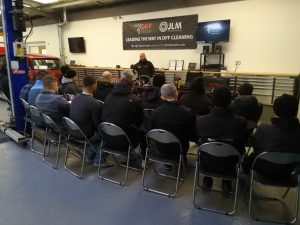 The DPF Doctor, formed in 2016 by Darren Darling, is a network of professional diagnostic technicians that has seen its members grow to over 50 around the UK. What is most impressive about this is the sheer quality of the technicians and also how they all work together to share their vast knowledge and experience.
If you don't know what a DPF is then it is a Diesel Particulate Filter. A diesel particulate filter (or DPF) is a device designed to remove diesel particulate matter or soot from the exhaust gas of a diesel engine. This reduces the particulate emissions going into our atmosphere and meet the standards required to improve our air quality.
From time to time these DPFs can become blocked. It may be blocked because your vehicle has only been driving at a low revs for short distances, however, in many cases the DPF blockage is a symptom of another fault rather than the cause. For a successful DPF regeneration, the vehicle needs to be driven on a journey for about 20 to 30 mins with the revs above 2,000 rpm or around 60mph. If the DPF warning light does not go out then you should seek professional assistance.
If the DPF warning light stays on, or if you find that you are having to drive the car on extended journeys more often to allow regeneration there is most likely an underlying fault elsewhere.
This is when it is important, and cost-effective, to have a professional diagnostic technician look at your vehicle and diagnose the fault(s) that may be causing your issue. Simply plugging in a DPF cleaning machine will only treat the symptom – not the cause and will therefore only result in a short term fix. In fact The DPF Doctor has seen an startling rise in misdiagnosed DPF problems leading to thermal damage to the DPF which results in the vehicle requiring a costly replacement.
This is where The DPF Doctor leads the way in DPF cleaning and diagnostics.
The DPF Doctor has so far received around 400 applications to join their network. There is a thorough checking procedure and all applicants must be a fully qualified vehicle technician with a forward thinking mentality and great customer service skills. All new agents attend a DPF training course which is followed up with regular refresher courses and the backup of full-time technical support.
Some new and recent additions to the team include…
Shaun Miller, Millers Garage, Newbury. Shaun was a close runner-up in Top Technician 2017.
Karl Weaver, Bull Lane Garage, Faversham Kent. Winner of the 2017 Top Technician award.
Dave Massey, ADS Automotive Ltd, Preston. Son of the legendary technician Frank Massey and a well respected technician in his own right.
Clive Atthowe, Clive Atthowe Tuning, Norwich. Clive won Top Technician in 2007 and came second in 2011. Clive won a national Crypton Technician competition three years in a row. Clive is also a Bosch Master Technician and came second place in the Bosch World Cup in 2002.
And, they of course, join some of our existing, highly respected technicians that include…
Darren Darling of Energy Tuning Ltd, Steven Paterson of Krypton Garage, Dave Hill of London Road Garage and Darren Cotton of AVC to name but a few.
Media Contact Details
Ashington, United Kingdom
01670818914