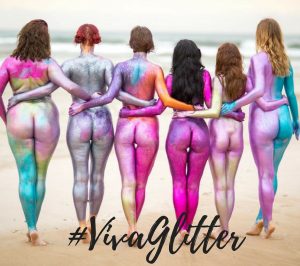 PRESS CALL: Glitter Girls photoshoot – Plus size retailer aims to help women to celebrate their curves and fight body shaming by baring all in a glitzy nude photoshoot
Date: Thursday 7th June 2018
Time: 12 noon
Location: Fiddler's Cottage, Harbridge Green, Ringwood, BH24 3PT. (Please request further directions if attending)
Plus-size online lingerie and swimwear retailer Viva Voluptuous invites you to help put the 'body' back in the body positivity movement by attending its outdoor Glitter Girls photoshoot next month. The company has invited 15 real-women of all shapes and sizes to be tastefully covered from head to foot in glitter and photographed nude from the side and back against a picturesque garden backdrop.
The project is designed to challenge the limited way the female body is portrayed in the media and to outwardly demonstrate that women don't need to conform to specific beauty standards to shine.
Viva Voluptuous will be issuing a press release in the week following the shoot along with hi-res press images taken on the day. If you would like to attend, please feel free to produce your own copy and bring your own photographer, or you can request ours.
For further information, please contact Felicity Fox or Liz Willis on felicity@vivavoluptuous.com / liz@vivavoluptuous.com or 07900654401.
Image: Project inspiration – photo taken by photographer Jill Kerswell as part of her Positively Glittered campaign in the Australian outback.